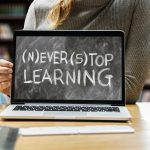 At Traralgon College we believe a personal computer allows students to access information, enhance and extend their learning and demonstrate understanding in creative and innovative ways.
All students will be expected to have a laptop to support their learning. In 2017 the College introduced a Bring Your Own Device (BYOD) program in conjunction with the Managed Bring Your Own (MBYOD) device program.
Both options will continue to be available in 2022; the preferred option continues to be MBYOD as this allows for the college to offer a high level of support to these devices.
Please see the Laptop Information Document for more information.
Our Laptop Purchasing Portal is found here.