Year 7 2024 Enrolment Information
2024 Enrolments are now open.
Please find below information for prospective students and their families.  We trust this information will support you as you make decisions about your child moving from primary to secondary school.
 ENROL NOW Student Enrolment Form 2024 (297 downloads)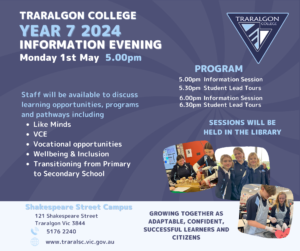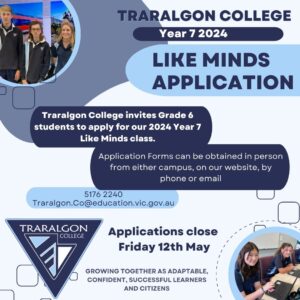 Like Minds Application Form 2024 Like Minds Application Form (61 downloads)
Like Minds Brochure Traralgon College Like Minds (203 downloads)
Message from the Shakespeare Street Campus Principal – Allyson Armstrong
Message from the Acting Year 7 Coordinator – Elaine Watkins
What our students experience in Year 7
Transitioning from Primary School to Secondary School
Programs and Opportunities for Year 7 Students
Year 7 Camp 2021
Well-being and Doctors in Schools 
Compass, Our online system for communication.
Communicating with our community.
Humanities at Traralgon College.
Science at Traralgon College.
Maths at Traralgon College.
PE at Traralgon College.
The Arts at Traralgon College.
Wakakirri at Traralgon College.